History
William Townshend Washington
(1802-1827)
Excerpt from Portraits of Historic American Philhellenes by Frederiki Pappas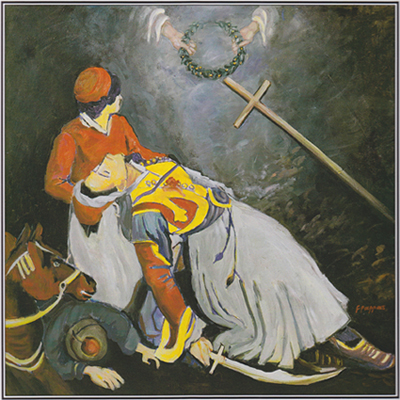 William T. Washington was born in Washington D.C. to Lund Washington, a cousin of the former President George Washington. Carrying the namesake of the great father of the American Republic and revolutionary commander, Washington was a young man with abilities and resourcefulness. After attending the West Point Military Academy and a sojourn to France, where he befriended and traveled with General Lafayette, he returned to the Untied States and was appointed to a military teaching position by the Secretary of War John C. Calhoun. Two years later, in 1825, Washington began his personal campaign in support of the Hellenic Revolution. His goal was to see the establishment of a Modern Greek nation-state.
In April 1825, Washington made the ultimate commitment to his ideals; he resigned his commission with the U.S. military and departed for Greece to join the military efforts against the Turks. He prepared for this campaign by securing letters of introduction for the Vice President William Crawford, Secretary of State John Quincy Adams and Secretary of War John C. Calhoun.
Washington's estimable mission to Greece was sponsored by the Philhellenic Comitate of Boston, a leading body of the American Philhellenic movement. In his letter of introduction to the Greek leadership, Edward Everett of the Boston Comitate stated that he believed that Washington could serve Greece well due to his military adeptness and spiritual oneness with the Hellenic case. Upon his arrival in Greece, Washington was quickly assimilated into the military leadership of the Greek forces and was given command of a rifle unit. What ensued was an apparent identity transformation as he assumed a place among the Greek leadership, together with a cadre of other American Philhellenes serving in Greece. Washington's experiences in Greece had obviously enervated and changed him. In correspondence he stated, "I want to die for Greece, and Greece only."
Washington's involvement in the struggle of the nascent Hellenic Republic represents the most fervent, yet paradoxical, portrait of a member of America's elite committed to the ideals of Hellenism.
William Townshend Washington Archway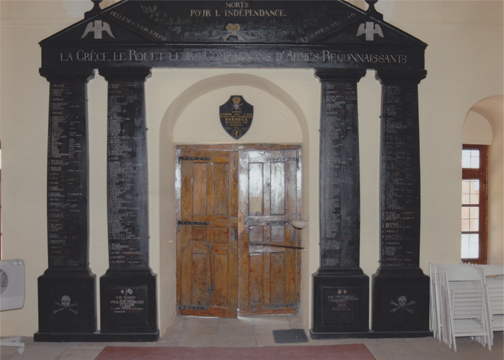 William Townshend Washington Archway
Located in the Catholic Church of Nafplion, Greece
To read and learn more about William Townshend Washington please contact us.